Kloril P varnish 3,3 ml
promo pack- from 2 pieces shipping is free!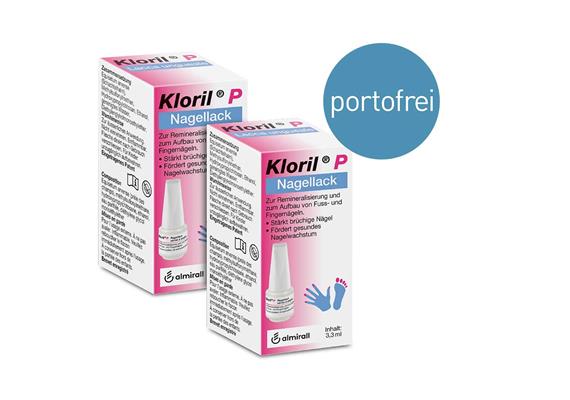 Description
Kloril
®
P
Nail Polish
When buying 2 packs of
Kloril
®
P
Nail Polish
there are no shipping costs.
Help for brittle nails
The nail polish contains the natural nutrients silicic acid and sulphur, which stressed nails often lack. Unlike common nail hardeners, the polish does not remain on the surface, but is absorbed deep into the nail and forms an invisible film on the nail.
Due to the unique combination of three active ingredients, the nutrients are transported deep into the nail plate to strengthen the nails specifically from the inside.
The medical product Kloril
®
P nail polish can help quickly and specifically in such cases, because it
strengthens brittle finger and toe nails
supports healthy nail growth
improves the appearance of the nails
mineralises nails from the inside
Kloril
®
P Nail Polish cares for and strengthens your stressed nails.
The medical product Kloril®P nail varnish can help quickly and specifically in such cases, because it

• strengthens brittle fingernails and toenails
• supports healthy nail growth
i• mproves the appearance of the nails
• mineralises nails specifically from the inside